WEB based teaching tools - Tools for Teaching Using the WWW
Software tools that simulate physical or theoretical concepts in a virtual environment.
Simulations, Animations, Applets, etc. ?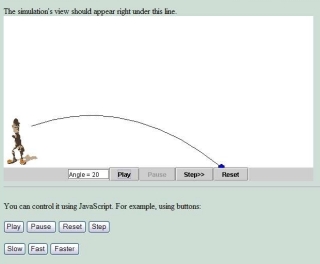 A variety of tools to provide virtual lab environment

Graphic representation of real world process

Show graphically
EXAMPLES
KNOWN BY A VARITEY OF NAMES

Applets

Physlets

SIMS

Plug-ins

Analogy in the real world are CAE programs and other forms of computer modeling.

Provide opportunities to get hands on experience when the real thing is not feasible

Allow users to test many in a short time.

Should be used as a pre-lab activity to maximize the value of actual hands-on labs

Cheap alternative

Safe Alternative

Provide experience with concepts that are not possible to actually do

Can replace analogies in a more meaningful manner

Can test many 'hypothetical' that cannot otherwise be tested
Distinguishing Features
Interactivity

Customizable

Accessibility
OTHER OPTIONS
Programming and scripting Languages

JAVA

VB

SCRIPTING LANGUAGES

MACROMEDIA SCIPTING

Turn-key applications

Services
SUBJECTS - Use your imagination!

Easy JAVA Simulations

FAQ's

WHAT

Examples

Easy Java Simulations, addresses precisely this problem. Ejs has been specifically designed to teach how to create scientific simulations in Java, in a quick and simple way.

are the conditions?

does it do?

is JAVA?

is it used for?

is needed to run the applets?

any JAVA enabled Browser, IE most reliable with latest Sun JAVA

do I need to use it to develop my own appletst?

Ejs is a Java program that compiles Java programs, hence it requires that you install Java 2 Software Development Kit (Java 2 SDK). The recommended version at the moment of this writing is 1.4.2_06 (version 1.5 is already available, thought we haven't tested it yet). see where? for download links

are there other options to do the same thing?

many but they usually requie programming knowledge or cost money

WHO?

WHY?

| | |
| --- | --- |
| would I want to use it? | see above |
| would I want my students to use it? | |
| does it run in? | |

WHEN?

would I use this?
can't do the real thing

as a pre-lab

for make-ups

for differentiated instruction

would I not use this?
???
would I have the time to learn this?
put a copy of the manual in the bathroom

HOW?

much does it cost
Free
Do I learn it?
How do I distribute it?

| | |
| --- | --- |
| Simple to add to WEB pages. | |
| Programs creates HTML, JAVA and XML files | |
| Runs standalone on any browser | |
| Doesn't require users to download plug-in | |

SUMMARY

Excellent tool for getting your feet wet.

Typical of Academic Generated Free Software?

All Science & Math teachers should have capability

If you tell me...

If you show me...

If I do it...

Learning Modalities

Verbal-Audio

Visual-Symbolic

Tactile
---